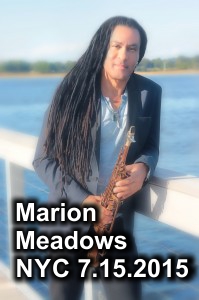 Albert Einstein once said "We all dance to a mysterious tune, intoned in the distance by an invisible piper." For multi-talented saxophonist and consummate creative spirit Marion Meadows, the allure of music was never too far. And he's is back in NYC performing with Norman Brown, on July 15th, 2015 on the Smooth Jazz Cruise sailing around Manhattan. The charismatic, strikingly handsome, eloquent and debonair musician, who happens to moonlight as a brilliant digital designer/photographer, and semi-professional cyclist originally had aspirations to become a veterinarian.
Marion Meadows Performs Treasures Live at Thornton Winery

"Reaching people through music has always been rewarding for me. Expressing yourself through an instrument and having listener's run through so many emotions is an artistic impression like no other," says Marion. With a clear trajectory in sight, the stars aligned for Meadows one evening at Grand Central Station, when his saxophone was mysteriously overheard reverberating through the Big Apple's oldest railway. Emmy-winning TV composer Jay Chattaway (Star Trek fame) was so enchanted that he introduced Marion Meadows to Grammy-winning pianist, producer and label owner Bob James, who helped Meadows to launch his career as a solo artist.
Marion Meadows and Warren Hill perform "Suede" Live at Morongo Casino

Close to 25 years later, scores of sold out shows, twelve critically heralded albums, a string of radio hits and collaborations with luminaries like Stevie Wonder, Eartha Kitt, The Temptations, George Benson and Norman Connors, Meadows is not through yet. "I have immersed myself in so many styles, from old school funk, jazz, rock and pop that a great tune is a great tune and I draw inspirations from all styles of music, but it is also from the outdoors and the beauty the world has to offer that inspire me each day" states Marion.
Marion Meadows – Whisper (2013) Official Video

February 26, 2013, Shanachie Entertainment in conjunction with Listen 2 Entertainment Group will release Whisper, Marion Meadows' label debut. Featuring mostly originals, Meadows dances a delicate balance between soul and fire, intellect and emotion, and sensitivity and brawn, making Whisper, an exhilarating musical foray into one of contemporary jazz's most brilliant minds and recognized soprano saxophonists.
Humanity

Don't miss Marion Meadow, as he performs with Norman Brown, Wednesday night. For information and to purchase tickets, visit SmoothJazzNewYork.com. Tickets are ON SALE NOW online at Ticketweb.com and by phone at 1-866-468-7619. Ticket prices start at $45 and up depending upon show and time of purchase.