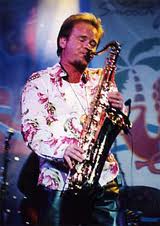 Steven Eugene Grove (born November 27, 1962), better known as Euge Groove, is an American smooth jazz saxophonist with a strong Top-40 background. He has been one of the best-selling contemporary jazz artists of the past decade, scoring eight Top 5 Smooth Jazz radio (including four #1 hits!) and selling over 250,000 units.
Euge Groove just released his seventh CD, appropriately titled, "S7ven Large," and it is just as groove heavy and melodic as his past recordings. His style is easily accessible and spiritually uplifting. It becomes impossible not to tap your feet and feel your heart rate increase just a bit when his songs cross the airwaves.
Euge Groove definitely can be characterized as the blue-eyed soul brother in Smooth Jazz world. His soulful and groove drenched sound just didn't fit his image when I was first introduced to his music. When I saw him for the first on video, I prepared myself to listen to country, and then out of his horn came sounds that I would imagine Grover Washington would play today if he were performing.
In the video below, you'll hear Euge Groove having fun on stage and giving the audience what they came to hear. In the first video he performs his 2009 hit, "Born 2 Groove."

The second video is a song titled "Slow Jam," and shows Groove's other, more sultry side.

A rather late-bloomer in the smooth jazz genre, Grove did not record his first solo album until 2000. Prior to that, he had replaced Richard Elliot in the Tower of Power when Elliot decided to pursue a solo career, and he also did session work with various pop acts, most noticeably the Miami girl group Exposé. He has a sax solo on their #1 hit "Seasons Change," and another on their 1993 hit "I'll Never Get Over You (Getting Over Me)."
Grove adopted the name Euge Groove, which consists of a shortening of his middle name and a very frequent mispronunciation of his last. While initially it was presumed to be coined by fans who saw him perform in Europe, Grove later indicated in an interview on XM Radio during the summer of 2006 that his mother-in-law conceived the idea for his stage name. The name fits and he lives up to it. Keep grooving, Mr. Groove!