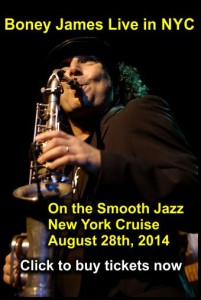 In 2009 Billboard magazine named Boney James the No. 3 Billboard Contemporary Artist of the DECADE. This comes on top of being a four-time Grammy Nominee. He was awarded Best Pop Instrumental Album in 2001, 2004, and 2014 and Best Traditional R&B Performance in 2009. Boney's last release, "The Beat," has exceeded his expectations and already spawned three number one singles. A year after its release, The Beat continues to hover around the top 10 on the Billboard sales charts. Boney James deserves it all.
Boney James performs at Seabreeze Jazz Festival 2013
In a recent interview with LA's 94.7 The Wave, Boney said, "Every time I go up there (on stage) I'm going to give 110 percent because I feel a real responsibility to every person in the crowd to try and connect with them. I think that's what they are there for. It's what I love about the experience so I'm going to give it all every time. The fact that people are reacting to it, I'm super grateful. People are still coming to see the show after all these years… all I know is that I'm going to go up there and give it my all every time." It is this attitude and embrace of life that makes Boney such a crowd pleaser.
Boney James "Metropolis" Live at Penn's Landing
Boney has stepped off stage and into the studio recently to assume the role of producer. He produced two songs on Al Jarreau's new tribute record to George Duke called "My Old Friend." Boney is a huge fan of George Duke, who play on one of Boney's records. This was the first time he produced a record for someone else, however he no stranger to producing and has been producing his own records for the last decade. He is not only a talented saxophonist, but also has a golden ear for delivering Gold records. He has four!
Always There (Casino Lights Live) with George Duke
Boneytook up clarinet at age 8 and switched to sax when he was 10. In the mid-80s, he toured with acts such as The Isley Brothers, Morris Day (The Time), Randy Crawford, and Teena Marie. Boney is a multi-instrumentalist, and just for fun here is a clip he recently posted in which he was playing keyboards for Morris Day!
Morris Day "The Oak Tree" [Soul Train 1986]
On August 28th, Boney James performs two shows at 6:30pm and 9:30pm in New York City. Join CoolGrooves.net on a ship called The Hornblower Infinity on Pier 40, by Houston St off the West Side Highway. For information and to purchase tickets, visit www.smoothjazznewyork.com. Tickets are ON SALE NOW online and by phone. Standard tickets for the Thursday, August 28th are only $65.00.
Boney James "After the Rain"